Homecoming 2023 will be here soon. Student Council recently announced the them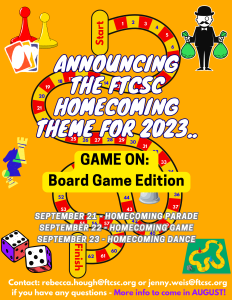 e for this year's events, "Board Game Edition!" The Homecoming Parade will take place in Wanamaker Sept. 21, the day before the 2023 Homecoming football game. The week will conclude with a Homecoming Dance for students on Saturday, Sept. 23.
More information on Homecoming Events will come throughout August. Questions can be directed to [email protected] or [email protected].